Department of Public Information
Jump to navigation
Jump to search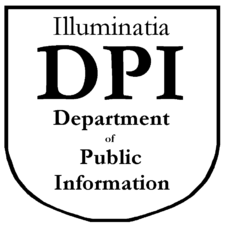 The Illuminatia Department of Public Information (DPI) is an agency of the Illuminatian government operating within the Ultrabureau of Control (UOC). The DPI provides the official mechanism through which Illuminatia's government communicates to its citizenry. The DPI's companion agency within the UOC is the Department of Ombudspersonship (DOO), which is tasked with receiving the incoming citizen communications to which the DPI responds. The DPI founded and oversees the Trans-Illuminatia Network (TI), Illuminatia's state broadcaster.
The Department of Public Information is the government's official publisher of legislation, judicial declarations, executive edicts, and other notices related to the functioning of various bureaus and departments. The DPI communicates to citizens through a variety of mediums, utilizing both direct forms of communication such as written memoranda, courier messages, telegrams, and telephonic calls as well as mass communication mediums such broadcasting, town criers, and newsletter and newspaper publishing. Notably, the DPI has from time to time utilized unconventional formats and mediums to relay messages to citizens, as illustrated by infamous incidents such as the time the DPI chose to issue declaration of new continental legislation via a stage musical, the one time the DPI relayed a judicial decision regarding a Bureau of Punishment and Castigation (BPC) verdict via interpretive dance, and the recent announcement of executive election results via smoke signal and semaphore.
The DPI plays a critical role in generating official response messaging generated in reply to incoming communications from the citizenry received via the DOO because of its ability to handle high volume. All agencies of the Illuminatian government under all four branches of government are required to officially respond to all incoming communications channeled through that department and this volume of communication can be overwhelming as a consequence of Illuminatia's politically aware and civically engaged electorate. Most government offices, departments, and bureaus rely heavily on the DPI to assist in producing and relying these response communications.
While the Department of Public Information is known as the official outlet for response communications instigated by messages received through the Department of Ombudsperson, the DPI also is known to dispatch communications spontaneously generated by the government's agencies. The government's numerous entities are also free to communicate as they wish through their own direct means and they often do, though messaging sent via the DPI carries the weight of an official governmental communication to constituents and as such commands greater attention and is received with a more serious disposition.